Twenty-five years ago, the first picture book about a young girl named Jamaica was published by Houghton Mifflin (original cover above, 20th anniversary edition below).
Written by author Juanita Havill and illustrated by me,
Jamaica's Find
has been published in Spanish, in England and New Zealand, in book-tape and book-cd editions, and as an e-book, and reprinted in school book clubs and curriculum programs. It was recommended on Reading Rainbow, and read by former first lady Barbara Bush on her radio program. (As a result, Juanita and I were invited to the White House for tea, with everyone else connected to the radio show. We met there and have been in touch ever since.) This week Publisher's Weekly included Jamaica in an
article
on book anniversaries.
Best of all, the first
Jamaica
is still in print, and has been joined by six other titles about the same character: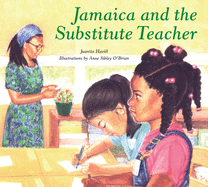 Here
's my announcement of #7.
The Jamaica books feature a young protagonist who happens to be African-American, so they are always on lists of "multicultural" books, but there's actually no cultural content in them. Jamaica is Everychild, facing small, everyday ethical dilemmas common to young children. She goes to school, she makes friends (one white, one Asian), she interacts with her loving, intact family, she figures out how to do what's right. That's precisely the significance of the series, and perhaps a clue to its longevity.
Juanita and I interviewed each other
here
and
here
.
HAPPY BIRTHDAY, JAMAICA!