Some of the discussion on what's missing in diverse books has focused on the absence of diverse characters in stories that young readers can't wait to pick up.
I've just read three thrillers starring young people who happen to be of color - one Indian American, one Mexican, and one African American (the last two are biracial with one white parent):
Chasing Shadows
by Swati Avasthi
Twins Holly and Corey and their best friend/girlfriend Savitri are free-runners whose urban playground is Chicago until a shocking, random act of violence changes their lives forever. Part of the story unfolds in graphic novel format. Savitri's Indian heritage is significant to the plot as her friend Holly gets lost in the Shadowlands, a world based on the Ramayana myth, and Savitri has to find a way to bring her back.
The Living
by Matt de la Pena
"Shy" Espinoza gets hired to work crew on a cruise line for the summer before his senior year of high school. He's on the ship when all hell breaks loose. The over-the-top plot in this page-turner, the first volume of a series, includes an off-the-scale earthquake, tsunamis, a shipwreck, days at sea in a lifeboat, sharks, conspiracies, a pandemic, quite a pile-up of bodies and lots of corrupt bad guys.
The True Meaning of Smekday
by Adam Rex
Savitri has to save her friend, Shy may need to save his family, his community or even the entire west coast of the U.S., but Gratuity Tucci has to save the entire world - from an alien invasion. With the help of an alien companion, and a cat. The book, which is to be released as a Dreamworks movie later this year, is written in 12-year-old Gratuity's voice, as a series of essays about her experiences. Suspenseful and highly comical, this story also includes some illustrations and passages in graphic novel format.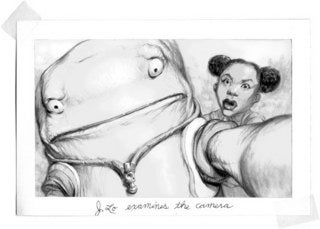 Get these books into the hands of young readers who love non-stop action.