Contemporary Koreans & Korean-Americans
Everything Asian: A Novel by Sung J. Woo
Just-released novel of a young Korean boy new to the U.S.; charming, funny and moving depiction of the immigrant experience.
Girls For Breakfast by David Yoo
Funny, edgy story of a boy who's the only Asian in his Connecticut high school.
Good Enough by Paula Yoo (sister of David, above)
Humorous romance novel about a teenage girl who plays violin and may not be quite the academic over-achiever her parents expect.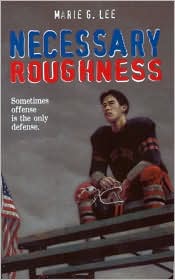 Necessary Roughness by Marie G. Lee
High school football player struggling to fit in when his family moves from LA to Minnesota, clashing with his more traditional father, surviving loss and finding his way.
Wait for Me by An Na
Beautifully written novel of a high schooler's difficult coming of age, caught between a bitter demanding mother and her own desires, alternating with passages in the voice of her younger, deaf sister.
Modern History
Year of Impossible Goodbyes; Echoes of the White Giraffe; and Gathering of Pearls by Sook Nyul Choi
Trio of poignant novels about a North Korean girl and her family - forced to flee to the south as refugees, surviving the war, and traveling to the U.S. to study, based on the author's own experience.
Lost Names: Scenes from a Korean Boyhood by Richard Kim
Seven vivid scenes describing a childhood under the Japanese occupation, beautifully written.
Traditional Korea
The Color of Earth, The Color of Water, and The Color of Heaven by Kim Dong Hwa
Three gorgeous Korean graphic novels in English translation, about a young girl coming of age in a traditional Korean village, based on the author's mother's story.